The concept of a mother fastening her baby to her body with a length of fabric is nothing new. It is an intuitive, cross-culture, age-old custom that kept baby safe and allowed mother to continue with her work-intensive daily business at hand.
HOW IT ALL BEGAN
We had our two children, our son Brett and daughter Jenna, in the 1980's when that age-old custom of baby fastening had re-emerged in various forms. Although I loved the concept of a wearable baby carrier, I had no success with finding one that was simple and easy to use that either of my babies, once beyond the newborn stage, would tolerate for more than five minutes. However, about the time Jenna was sitting up and starting to crawl, I came across a backpack style baby carrier made for her age and older. The carrier, with its sensible no-frills blue fabric baby seat and aluminum frame was lacking esthetics but that was okay with me….I was looking for functionality and usefulness. What a find. So easy, so portable, it kept my little tot engaged, safe, and happy. It was the best seat in the house!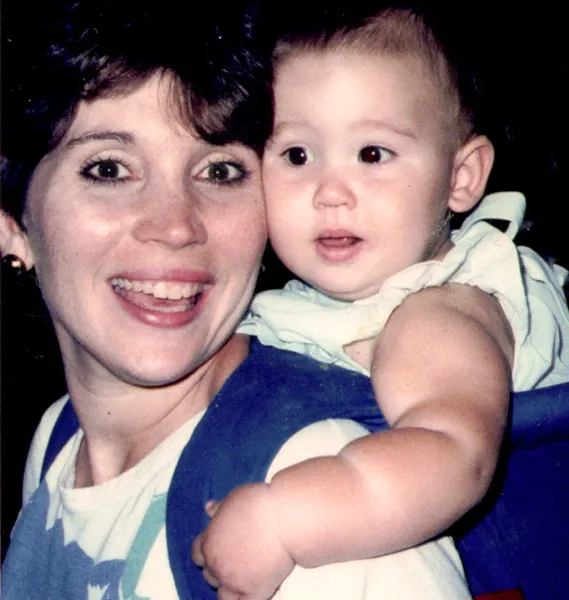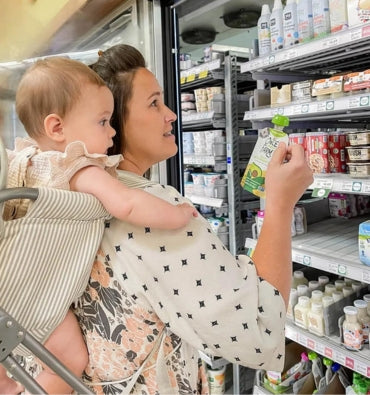 THE SEARCH WAS ON
In 2017 Jenna was the first to delight us with a grandson. We entered starry-eyed and smitten into the wonderful world of grandbabies. I thought a great gift for her as a new mom would be the same type of carrier that worked so well for us when she was a tot. The easy, portable carrier that kept her safe and content, the one with fabric baby seat on a framed, backpackstyle carrier…. best seat in the house.
That.exact.thing. Except...maybe even new and improved a bit since, after all, it was a product of the 1980's. Better fabric? Softer to the touch? A bit more refined, a little more charming, maybe less of the I'm-getting-ready-to-pitch-a-tentand-build-a-campfire look to it?
The search was on for that very specific type of backpack style baby carrier we were expecting to find. Surely, those things have evolved, right? Not exactly.
We couldn't believe it, but of all the innovative baby products, a modern, no-fuss, lightweight, framed backpack style baby carrier we were searching for was definitely not in the marketplace.
FROM OUR FAMILY TO YOURS
In 2019 our son Brett added even more darlingness to our lives with another grandchild, and more conversations about how useful it would be to have that old school baby backpack carrier.
I mean…. we just couldn't let it go. We are tenacious like that. So as the story goes, we decided the world of babies, parents, grandparents, and caregivers must not go any longer without "the best seat in the house" baby carrier. Deep breath, here we go… and plunge. Wait…no. Full stop. Our progress was interrupted when the world stopping turning in 2020 but finally…
Here we are! We are exceptionally pleased to introduce TotPack, our freshly designed backpack style carrier, where form and function nestle together beautifully. Intuitively useful and fashioned with our custom 100% woven cotton fabric in a timeless pinstripe, we designed TotPack to be everything we were looking for in a carrier.
Pack that little happy tot of yours and carry on!